Welcome to the American Machine Specialties L.L.C. Blog
American Machine Specialties of NJ LLC
4/3/20 Special Announcement from Collins Aerospace about (COVID-19) >>
1/27/21 American Machine Specialties of NJ return policy for all ceramic coated parts >>

2/8/22 American Machine Specialties of NJ LLC return policy >>
9/22/22 Harte Aerospace Unveils Design Updates to its first Electric Aircraft >>

Certified Ceramic Coatings
Our ceramic coatings have been in the industry for 35 years. The characteristics of our ceramic coatings are excellent on the following substrates 303, 304, 316 and Inconel 600 series stainless.
The following attributes come all in one package only .003" thick for the outside or inside diameter or can be applied to any stainless substrate needing the following characteristics.
Dielectric ASTM-D149 was tested up to 25kV/mm. The industry standard is usually 500 volts. This is superior protection in very harsh environments for sensing on brakes, on wing and on engine.
SAE AS 8028 Heat test provided insulation up to 2000 degrees F .
Corrosion Resistant per ASTM B117-11 500 Salt Spray test showed no wear at all.
American Machine Specialties of NJ LLC can provide custom machining and forming with very tight tolerances for any stainless substrate.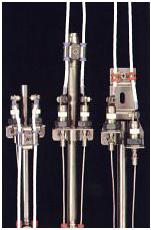 Sensors for dielectric heat and harsh environment.
American Machine Specialties of NJ LLC provides Inconel and stainless steel connectors with our ceramic coatings TYPE 64-T5518 or # 610 which provide insulation for current, heat and liquids.
These sensors are used in Boeing and Airbus. The locations on the aircraft are on wing for de-icing, Brakes for overheating and cockpit sensing for detecting overheating between wire connectors.
CNC Milling
When you are seeking high-end component parts for your industry, you can count on the dedicated team at American Machine Specialties of NJ LLC. For many years, our business has been providing companies in the aerospace, medical, robotics, and filtration flow control industries with exceptional precision components, making sure that you only receive top quality selections for your needs.
The beginnings of this company start with Peltier Instruments. Started in 1956, Lawrence Peltier designed and patented the control deburr machine, a washing machine with no moving parts, and the first electric chain driven garage door opener with a remote switch box. He sold these patents, but continued this business to provide high-end CNC milling and turning services. Furthermore, we offer our specialty #610 ceramic coating services.
Our business looks at your products as if they were our own. Because of this, we are able to meet and exceed your expectations, providing quality selections and making sure that everything is delivered to you in a timely manner. When you are interested in receiving our precision machining and fabrication services, give us a call at (800) 394-9850 to discuss your needs. We are ready to listen to you and say yes to your project.
Quality Ceramic Coating Services
Ceramic Coating
Count on American Machine Specialties of NJ LLC. when you are looking for custom ceramic coating services. Our business offers special #610 ceramic coating which is used for Inconel hoods. These hoods are typically used in aerospace applications and are able to stand up to very harsh environments. Additionally, they are used on aircraft harness connectors for dielectric protection and can stand up to extreme heat when used on jet engines.
When we tested our #610 ceramic coating, it has been observed that the dielectric strength goes up to 29000 volts when applied by two electrodes to the OD. Since this initial testing, this coating has been certified to ASTM-D149, which is the certification most applicable in modern aerospace markets. Furthermore, this coating has withstood the SAE SA AS 8028 heat test, which goes up to 2000-degrees Fahrenheit.
Whether you are interested in our ceramic coating services or are just interested in more details about our CNC milling and turning services, our business is ready to speak with you. You can call us today at (800) 394-9850 to request more information about our precision machining and fabrication services. When you choose our services, you can feel confident that our team is working hard to enhance your competitive edge in the marketplace.